Lucky and I have joined forces in this collection of jewellery! Lucky is a sculptress, my friend and studio neighbour at the Chocolate Factory. She sculpts me focal pieces and I create jewellery designs to compliment her sculptures.
We are very excited with our new project and have many more ideas for her to sculpt and for me to design jewellery around.
Our L&H wearable art jewellery designs can be viewed in my studio by contacting either one of us.
Below you can see our first ever L&H created necklace, called The White Goddess but I'm afraid our Goddess has already been sold.
We have a Facebook page showing many more of our designs. If you would like to be kept informed of what we get up to, just 'Like' the Facebook page and you'll get to see our new additions. https://www.facebook.com/LHwearableart
The White Goddess is made from porcelain, fired twice and glazed. I have added freshwater Pearls and acrylic pearls in the design.
Et voila, the result!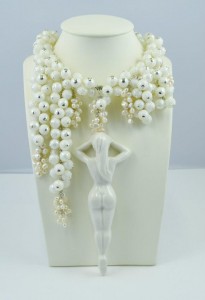 Lucky: 07726 788870 – Harma: 0794 1325071