SAVE THE DATE – OPEN STUDIOS 2019
I'll be in Artspace 5, studio 13 on Coburg Road, N22 6TZ. Once you get to Coburg Road, just follow the signs. Looking forward to seeing you there!
The links further down the page will give you all the information.
Saturday & Sunday 9th and 10th November 2019 from 12 until 6pm.
Private View on Thursday 7 November 2019 from 6 until 8pm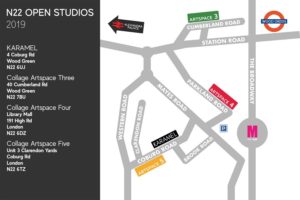 2019's open studios will be our 23rd year!
The Collage Artspaces can be found in the Wood Green Cultural Quarter. All are less than 10 minutes walk from Wood Green tube station on the Piccadilly Line and Alexandra Palace train station. There are over 200 artists working in the Collage Artspaces. You will find a great diversity in the work including painters, print-makers, photographers, designer-maker, jewellers, sculptors and ceramists. Some of the artists offer hands-on sessions. Many work to commission. So, whether you are looking to liven-up your wardrobe or your living space, or you are keen to come and meet the artists, we hope you are able to come and join us…
https://www.facebook.com/collageartspaces/
http://www.collage-arts.org/open-studios/